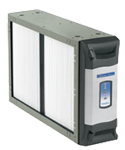 SpaceGard Air Filters from AprilAire for cleaner whole-house air
The Space Gard High Efficiency Air Cleaner from Aprilaire (sometimes misspelled Space Guard) is a complete air cleaning system. It effectively cleans up air pollutants such as pollen, dust, dander, pet hair, dust mites and tobacco smoke. The cleaner was first released in 1973 and ever since has been reputed to be a silent worker, with relatively low maintenance and mostly inexpensive.
Space Gard 201 Uses HEPA Technology
The Space-Gard 201 filter uses a HEPA-type filtering science (highly efficient particulate air filter) that is said to be 99% effective against dust, pollen, mold and bacteria larger than five microns. For particles smaller than that size a 95% effective rate is quoted. With HEPA, these particles are trapped by the Space Gard 201's fibers by diffusion, interception or impaction. The SpaceGard air cleaner claims to be an improvement over regular HEPA science, and is said to actually improve over time and with more use.
SpaceGard cleaners are classified as mechanical filters, and usually associated with Space Gard furnace type filters. Newer Space-Gard models such as the Space Gard 2200, the Space Gard 2400, and the Space Gard 401 are adaptable to upflow and a horizontal duct configuration. SpaceGuard air cleaners are ideal for server room air circulation because they are installed in ducts or furnaces. These types of air cleaners install onto the system of an air conditioner or heater, they are not portable like many other types of cleaners or a car air purifier.
Space Gard Air Cleaner 2200 Vs. Living Air Purifier
When comparing "living air purifiers" (products by Ecoquest which is a spin off of Alpine) to Space-Gard models you notice many differences. While Ecoquest is known for its quality and variety of air purifying products, their models are electronically and ionically based. For one thing, Space-Gard cleaners have no moving parts and thus do not have all the maintenance of living air purifiers. SpaceGards do not use any large amounts of electricity nor are they noisy, whereas other types of cleaners are notorious for both. Space-Gards come with a limited lifetime warranty.
AprilAire Space-Gard Furnace Filter Replacement
One of the most effective and most popular furnace air filters on the market is the Space-Gard whole house high efficiency furnace air filter, also called the AprilAire high efficiency air cleaner. This filter uses a highly efficient filter media that removes dust, dust mites, mold spores, pet dander, pollen, bacteria, viruses, smoke and other contaminants in the home.

The filter is also designed to become more efficient with use. It requires replacement only once per year as opposed to monthly as with most 1" paper or fiberglass filters. With its deep pleated filtration media, it provides 72 square feet of filtering media, 30 times the filtration area of standard 1" filters.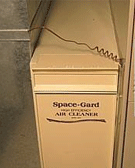 Trane CleanEffects Clean Air System
The standard air cleaners on the market have filters that are very dense. Meaning they try to stop the dust by trapping it in a slightly porous filter. The fewer the pores the more dust it can trap. However, this not only stops the dust and dirt, but it also stops the air from moving as well. In other words, the amount of air that goes through your system is reduced so you may not be as comfortable. Less air is cleaned efficiently. This is called pressure drop. The revolutionary Trane CleanEffects air filtration system has the lowest pressure drop with the highest efficiency possible. Our unique patented technology is designed to let air flow freely through the most advanced filtration system available. The result, more of your air is cleaned faster and more effectively than anything else on the market.
Trane CleanEffects utilizes patented, breakthrough air cleaning technology to remove up to an astounding 99.98% of airborne allergens from the air that passes through the filter, making it 8 times more effective than even the best HEPA room filters and up to 100 times more effective than a standard 1" filter. What's more, Trane CleanEffects has been performance-tested by LMS Technologies and Environmental Health &Engineering, Inc. (EH&E), with the results verified by professors from the Harvard School of Public Health, so you know you're getting an air filtration system like no other.
LMS Technologies is a technology consulting company that specializes in air flow measurement, filtration testing and particle analysis. Environmental Health & Engineering is an environmental consulting and engineering services company that is dedicated to ensuring safe and productive environments, and is co-founded by John D. Spengler, PhD of the Department of Environmental Health at Harvard.