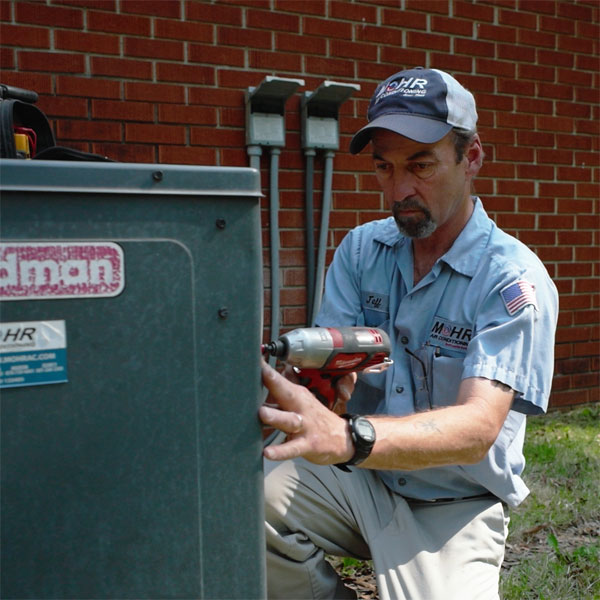 Trusted HVAC Installations
Whether it's too hot outside for your AC to keep up or one component of your unit keeps breaking down on you, there will come a point in time that you'll need to install a new air conditioning unit. When replacing an air conditioning system with a more efficient one, a reliable technician should always perform the installation. Keeping your home at a comfortable temperature requires several components of your AC to work as precisely as they were designed to. A proper installation is crucial to prevent unexpected issues with your system, which can lead to expensive repairs.
Mohr Air Conditioning performs installation services with expert care so you can have uninterrupted comfort throughout your home. We also offer a wide variety of comfort and safety products that can ensure whole home protection, cooling, and heating. Many of our products are rated highly on the Seasonal Energy Efficiency Rating scale and can help make your home more comfortable while saving you money on your electricity bill. Mohr technicians are trained on all systems and can perform flawless installation services for the following units:
Heating & Cooling Systems
Duct Free Systems
Packaged Units
Heat Pumps
Air Handlers
Hybrid Heat Systems
Indoor Air Quality Systems
Air Cleaners
Humidifiers
Ventilators
UV Lights
Carbon Monoxide Detectors
Certain cooling systems can be more effective based on your comfort needs. Our team can help you determine which system is right for you and install it in your home in no time. Whether it's a duct free unit for climate control for individual rooms or a carbon monoxide detector for whole home safety, Mohr technicians are expertly trained to perform any kind of installation you may need.
Why Mohr Air Conditioning?
According to the Department of Energy, when you have a properly functioning system that is up to date on the latest cooling technology, you can actually cut down on your heating and cooling energy use by up to 50%. Different home and office spaces require a variety of systems, but no matter what you choose, an efficient system paired with a quality installation can help manage your energy use. Mohr wants to make sure your comfort needs are met through excellent customer service and phenomenal HVAC systems. The team at Mohr can help you with any of the following installation needs:
Free in-home consultation with one of our HVAC specialists
Help selecting an energy-efficient heating and air conditioning system that meets your comfort preferences and lifestyle
Proper sizing of the equipment to meet the unique needs of your home
Flexible financing options that allow you to conveniently pay for your installation, subject to credit approval
Full factory warranties on all equipment and labor
Save your home from costly repairs from a poor installation job. Call Mohr Air Conditioning for industry leading installations for HVAC, indoor air quality, and safety systems.