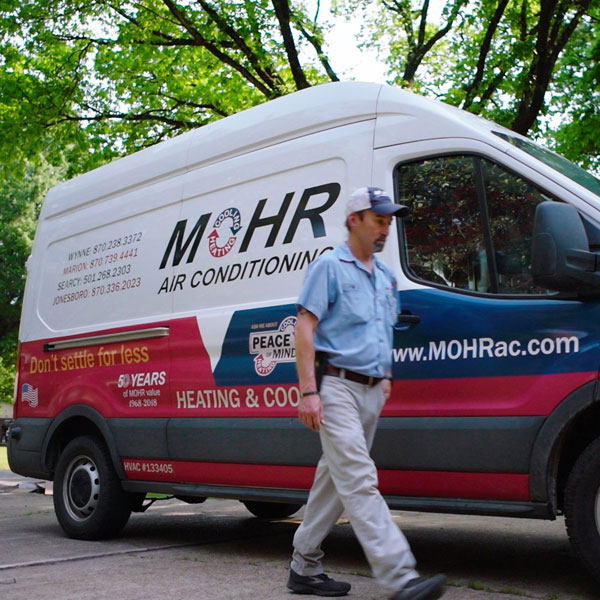 You can't go wrong when taking care of your home, especially when you schedule preventative maintenance for your HVAC system. Your home and your family will be much happier with a little extra care given toward heating and cooling your home in eastern Arkansas. Plus, we know just the team to help you out.
With regular maintenance, you can prevent small problems from escalating into large, more expensive issues and ensure optimal performance of your comfort system. Mohr AC also offers annual service agreements, which can reduce the cost of your HVAC Performance Tune-Up. If you have any heating and cooling questions, you can count on our trained service team for expert knowledge and assistance. As always, our biggest priority is your comfort.
Don't choose just any HVAC company. Meet the people who have been servicing homeowners in eastern Arkansas for over 30 years. Call Mohr AC for your home's HVAC preventive service.
Why Schedule Regular Maintenance?
The best way to avoid unexpected air conditioning issues in the middle of the summer is by scheduling your system for a tune-up every year. As a home necessity, air conditioners work harder than almost any other system in the home, especially during long, summer days. All air conditioners experience wear and tear, but not all are in a constant state of disrepair.
Taking care of your cooling system with preventative maintenance can help reduce the number of total HVAC repairs you need. Reducing the extent that wear and tear can have on the system can also ensure your AC lasts as long as possible. Additionally, homeowners can benefit from preventative maintenance in other ways such as the following:
Provides a more comfortable indoor environment
Protects your investment
Keeps energy costs low
NATE Trained HVAC Specialists
When you need the best techs to work on your home, make things easy on yourself by scheduling with Mohr AC. Our technicians are bonded and insured for added quality assurance during your HVAC services. The level of care we deliver during each and every job is for the sake of knowing our customers will be much more comfortable.
Plus, you won't find this kind of value anywhere else. Because our job is to make sure you never experience another issue with your HVAC system, we're exhaustive during each maintenance appointment.
The following list contains just some of the services we offer during a Mohr AC Performance Tune-Up:
Inspect safety components
Check starting capabilities
Check refrigerant pressures
Check electrical connections
Clean or replace standard filter
Clean condensate drain(s)
Check electric heat strips
Check amp draw on electric heat strips
Add algae tablets to the drain pan(s)
Clean/adjust blower components
Vacuum blower compartment
Measure air flow
Measure volts/amps on motors & compressor
Lubricate all moving parts that require oil
Check thermostat operation
Clean Condenser coil
Check Temperature difference
Inspection of ductwork
Check fan rotation & alignment
Check outdoor fan blade for cracks
Check running amps
Inspect/Clean air cleaner, UV Lights
Check Voltage to Outdoor Unit
Check Sub-Cooling and Super Heat
Inspect Overall Outdoor unit
Check Suction Line Insulation
Replace thermostat Batteriess
Clean Equipment Cabinets
Clean Evaporator coil (extra charge
if coil has to be pulled to clean)