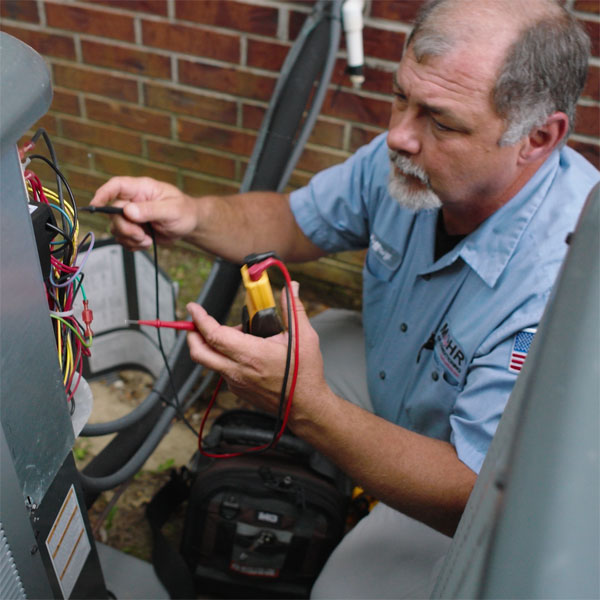 Upgrade Your System
Your air conditioning is responsible for keeping your home comfortable, and it is most likely the single biggest use of energy in your home. In fact, over a third of the energy used in the United States is used to heat and cool buildings and homes. Having a properly designed and installed heating and air conditioning system will have a big impact on your energy use and costs. The best way to make sure you have the perfect HVAC system in your home is to have a Mohr expert assess your home's unique space and its cooling needs. When it comes to the spring and summer, an efficient system will be a life saver for your home and energy bills during the warmer months.
All HVAC systems need to be replaced eventually, and regular maintenance can maximize the lifespan and efficiency of your equipment. A good way to tell if your air conditioning system needs an upgrade is by how frequently it needs repairs. Problematic systems that make you call a technician every season most likely need one or more of the components to be replaced. Other signs that it is time to replace your AC include the following:
Uneven cooling throughout your home
Your system is over 15 years old
Your energy bill is steadily increasing
Malfunctioning equipment
Replacing your current air conditioner with one that has a higher Seasonal Energy Efficiency Ratio can make it easier to cool your home during the hotter months, keep your energy bill low, and prevent unexpected and expensive issues. Call the team at Mohr Air Conditioning for a professional recommendation for your next HVAC system.
Choose Mohr For Energy Efficient Systems
Mohr Air Conditioning can provide a fast and professional replacement of your old system. Plus, our replacement services are about more than just switching out your old unit quickly. We take extreme care with new systems to ensure that they will work flawlessly. You can also receive a free in-home consultation with a Mohr HVAC specialist so you can select the perfect energy-efficient air conditioning system for your home and lifestyle. Our technicians are trained on every model of heating and cooling units, so you can trust our team to make accurate recommendations to suit your HVAC needs.
All of our equipment and services comes with full factory warranties because your home deserves the best performance and service in the industry. We'll make sure you have everything you need to keep cool in the summer and warm in the winter along with flexible financing options.
For any emergency replacement services, Mohr Air Conditioning can help provide effective solutions in a timely manner. Just call if you ever need emergency services for your HVAC system.